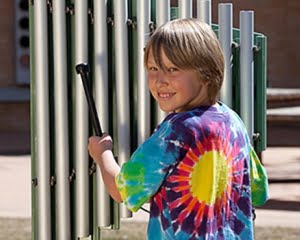 We offer high quality outdoor tuned musical instruments made by Play Mart, and our partner, Freenotes Harmony Park. There are no "wrong notes"!
Designed with acoustic precision and perfect tone by a Grammy Award winning musician, Freenotes Harmony Park instruments are built to maintain pure and soothing tones through years of rigorous play and exposure to the elements of nature. Freenotes are perfect for musical beginners and experts alike.
Ease of play and the interactive nature of our musical instruments are at the heart of their versatility. Musical knowledge or skill isn't necessary in order to create beautiful sounds; the instruments are orchestrated to be forever pleasing to the ear; for both the players and those listening nearby.
Music Therapy works as a creative, flexible and sometimes spontaneous means of utilizing the appeal of music to help people of all ages and abilities. Music Therapy can positively affect children and adults alike. Through the medium of music, many essential, enabling and life skills can be learned.