GSA Contract Schedule
As GSA Contractor #GS-07F-0206L, Play Mart's playground equipment products are available for direct sale to all US Federal Government agencies at a significant discount.
Play Mart offers full service playground equipment site design, playground products for all ages, site amenities (benches, tables, trash receptacles), fitness equipment and playground surfacing and borders, as well as playground installation to our GSA and Federal Government/Military customers.
---
Play Mart Playground Equipment Sales Representative Contact Information
---
GSA honors Innovative Environmentally Friendly Businesses for commitment to the environment.
Somerset, KY (March 17, 2011) – Play Mart, Inc was one of four businesses recently presented with the Evergreen Award by the U.S. General Services Administration (GSA).
---
Play Mart's GSA Playground Equipment Project Photo Sample:
McGuire Air Force Base: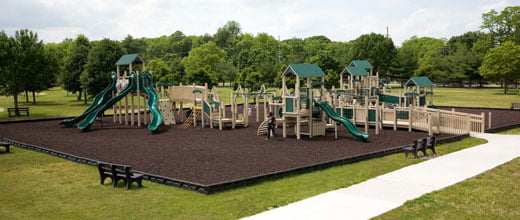 Coronado NASNI (Naval Air Station North Island): Child Development Center
Barstow Marine Corps Logistics Base:
---
Looking for Nature of Early Play product representatives? Visit the website: www.natureofearlyplay.com
---