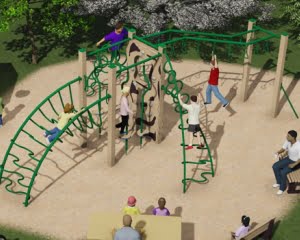 "Intelligence and skills can only function at the peak of their capacity when the body is healthy and strong." — John F. Kennedy
Can fitness and play be one and the same? With Play Mart's PlayFit™ line, the answer is a resounding "yes"! Regular activity has enormous benefits for a child's physical and mental health. Make sure the children in your care aren't missing out on their daily dose of exercise by incorporating some of our fabulously fun playground fitness equipment.
Experts recommend 60 minutes of moderate physical activity, yet many kids fall short of this goal. At Play Mart, we know that if physical activity is to become a natural part of life for our kids, they have to have fun doing it. Playgrounds are an excellent way to incentivize children to get off the couch and outside in the fresh air. While your children enjoy climbing, crawling, sliding, and swinging on the playground, their bodies will enjoy the benefits of activity. They will build muscle, gain balance and coordination, and develop their gross and fine motor skills. When children start healthy habits early in life like regular physical activity, they are more likely to grow to be strong, thriving adults. Active kids are healthy kids, and PlayFit playgrounds are the most enjoyable gyms you will ever encounter!
Showing 1–15 of 29 results