Advantages of Outdoor Classrooms for Schools
Now, more than ever, outdoor classrooms are vitally important to a child's well-being and development.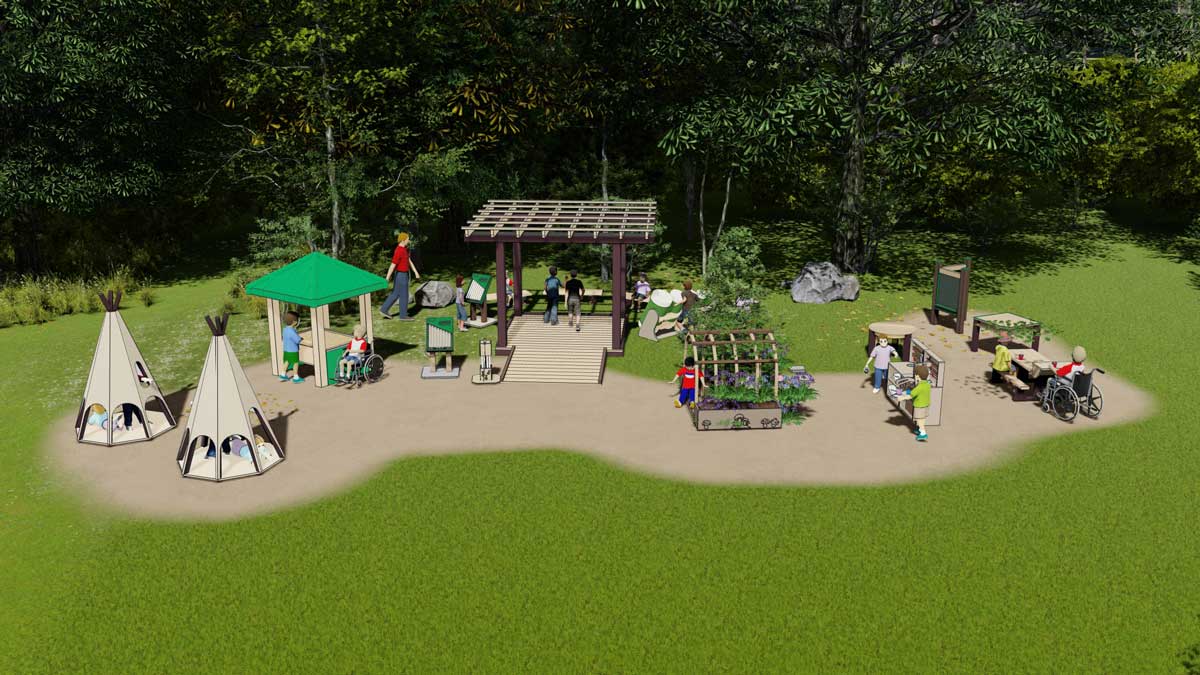 For decades children have spent an increasing amount of time indoors. Children as young as five years old have already spent less time outdoors than their parents did by that age! As a result of this, elementary age children have inadequate physical activity and poor diets. According to the Centers for Disease Control Physical Activity Guidelines for School-Aged Children and Adolescents, children age 6-17 should get 60 minutes of moderate to vigorous physical activity daily. Outdoor classrooms and playgrounds are a great way to help get children moving.
"Compared to those who are inactive, physically active youth have higher levels of fitness, lower body fat, and stronger bones and muscles. Physical activity also has brain health benefits for school-aged children, including improved cognition (e.g., academic performance, memory) and reduced symptoms of depression. Regular physical activity in childhood and adolescence can also be important for promoting lifelong health and well-being and preventing risk factors for various health conditions like heart disease, obesity, and type 2 diabetes." –Centers for Disease Control
Benefits of an Outdoor Classroom
Elementary schools and education facilities that include outdoor classrooms can offer tremendous benefits to children. In addition, they provide an added value to their educational programs and administrators often see an improvement in enrollment.
Schools across the country who don't already have an outdoor classroom component are now considering it. It is a popular subject in education circles and blogs, like one recently posted in Education Week online.
Outdoor Classrooms for Children
Children of all ages can benefit from an outdoor classroom, whether it is adjacent to an elementary school, attached to a playground, or even in a natural or community park environment. Studies have shown that children who experience at least a portion of their day in an outdoor learning environment experience cognitive and psychological benefits as well as the more obvious physical benefits.
Outdoor Learning Benefits to Children:
Increases curiosity and interest in science and nature
Improves understanding of the physical environment and appreciation of the natural world
Encourages learning through investigation, problem-solving and observation
Cultivates personal responsibility
Advances physical development, capability, and activity
Promotes an active, healthy lifestyle
Improves emotional wellness and self-esteem
Components of an Outdoor Classroom
What is it that makes up a successful outdoor learning environment for children? For starters there must be some structure or curricula. Without structure, an outdoor classroom is simply a playground. And while there are countless benefits to children while playing on a playground, an outdoor classroom should offer guided learning.
Educators and administrators designing an outdoor classroom should consider both a space for classroom-style learning as well as exploratory or self-guided learning. Equipping a physical space with tables, benches or stools, and shelter are important components to children's safety. Additional components such as raised stages, chalkboards or writing boards help define the space. Even subject matter specific pieces like musical instruments, educational banners or art boards can add learning stations to an outdoor classroom.
Whatever the space, outdoor classrooms offer children a variety both educational and fun ways to get physical activity long with learning language and communication skills, creativity, and providing for social and emotional development.
Today's Changing Classroom Environment
With the uncertain nature of indoor or close-contact learning environments, many schools and education centers are turning to outdoor learning options. Social distancing can be difficult with an indoor classroom. This is why outdoor classrooms are becoming popular in hundreds of school districts across the United States.
Creating the perfect, functional outdoor classroom can be as simple as providing a place for children to sit. Depending on the space that is designated for learning, it is important to have structurally sound components that are meant for the outdoors. Careful planning can make for a positive educational experience for children and teachers alike.
Play Mart offers outdoor classroom equipment designed specifically for children age five through adult. Our experts have developed commercial-grade outdoor learning components for classrooms, crafts, reading time, science projects, music lessons and gardening. Our full product line products includes tables, musical instruments, storage sheds, art panels, chalkboards, garden beds, sensory water and sand tables and much more. And, all products are made from recycled materials!