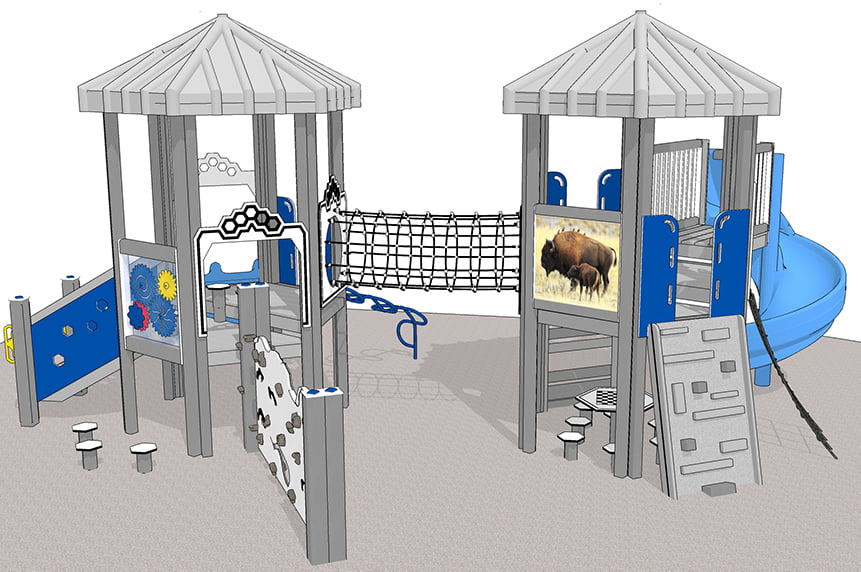 "We didn't realize we were making memories. We just knew we were having fun." — Winnie the Pooh
The playground is the pinnacle of the elementary school experience. When you think back to your elementary play, you may think of the classic slides, tunnels, monkey bars, and climbing ladders that entertained you and your friends for hours on end. Play Mart offers unique spins on these traditional favorites that provide maximum fun for your elementary children at maximum value to you with our quality materials that won't rust, chip, or fade.
Children have different needs as they go through stages of growth and development, so not every playground is appropriate for every age group. That's why Play Mart has an Elementary line specifically catered to the needs of school-aged kids between 5 and 12 years old. This means higher decks and slides and more challenging climbers to keep older kids moving and active. The playground is more than just a place for fun and exercise, however. We want our playground equipment to stimulate Elementary-aged children's active brains, too. Each of our playsets include interactive STEAM (Science, Technology, Engineering, Art, and Mathematics) panels to get kids excited about learning. Kids get the chance for hands-on activities that complement classroom learning with gear panels, teleidoscopes, and more. Social skills are another critical element at this age, so our Elementary playsets incorporate lots of opportunities for groups of kids to get together and engage in social play. Talk about multifunctional!
Showing 1–15 of 40 results