What's So Swell About Swings?
Here at Play Mart, we're with you and your children through the ups and downs of life. What better way to cope with those ups and downs than through the peaceful sway of a swing? The swings are a staple of any school playground for a good reason! Swinging is genuinely a form of therapy for mind and body, and we don't just say that because we love to play—it's proven science! At Play Mart, you'll find commercial swing sets made with the same safety and durability you've come to expect from our playground equipment with a lot more to offer than pure entertainment. Let's take a look at how bringing playground swings to your community play space can benefit your children's brain development, mental health, and overall well-being while providing maximum fun for everyone.
Swinging to be Social
Swinging is more than just good fun—it's a fantastic opportunity for multiple children to learn essential social skills! As they swing, kids can practice taking turns with their friends, pushing each other higher and higher while offering encouragement along the way. This gives them great physical development benefits and allows different kiddos of all ages to talk and make new friends as they push each other's swing seats high in the sky. Our RSP A-Shaped Swing Frame Sets are perfect for bringing groups of 2-6 kids together for stimulating cooperative play.
Need proof that swing sets are the ultimate way to be social? In a fascinating study to gauge the impact of collaborative activities, researchers at the University of Washington created an innovative swing set that enabled two 4-year-olds who were strangers to one another to swing in unison in controlled cycles. They observed that synchronized swinging had positive effects on socialization between young participants. "Researchers found that the children who swung in unison completed the tasks faster, indicating better cooperation than those who swung out of sync, or not at all," the study says. "Cooperation has both a social and cognitive side, because people can solve problems they couldn't solve alone."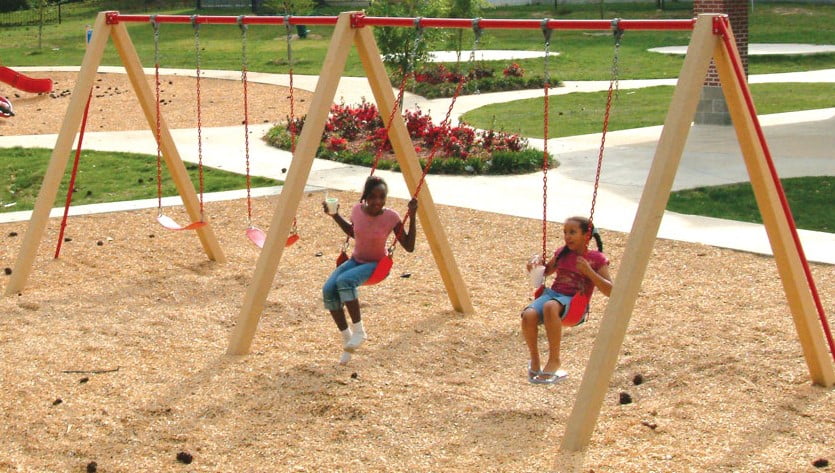 Sense the Swing Set
Young children's minds and bodies are constantly growing, making it important to help cultivate the right environment for their development. Swinging on a swing set can be a great way to do just that; encouraging them to hone in on their physical awareness. At the same time, swinging also strengthens their ability to adapt quickly when faced with unexpected stimuli—like an overly chaotic lunchroom or loud ticking clock they encounter in a school classroom. Such activities foster focus and self-control which is integral during times of learning, especially as they venture further into school settings and beyond.
Make it a Mood Swing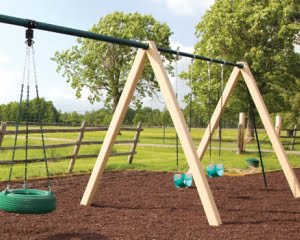 Have you ever seen a person frowning on playground swings? While there's a chance you may have at one time overestimated your ability to fly and sustained an injury jumping off, most likely you associate childhood memories of the swing set with laughter and the carefree joy of being a kid. Swing sets at elementary schools, churches, parks, and daycare centers are a place where youngsters can pump out their frustrations while soaking up the sun and fresh air.
When the children in your care play on one of our recycled plastic swing sets, they will get more mood-stabilizing benefits besides pumping away stress. Swinging is a gentle, therapeutic motion that helps kids to relax and soothe their emotions. It releases endorphins into the body, promoting feelings of joy and serenity. Swinging is a secret weapon in helping children with high anxiety and special needs find balance. With just one motion, your little ones get back on track! Who knew commercial playground swing sets can double as therapy?
Swing Yourself Smart
Michigan State University says, "Spinning on a swing stimulates different parts of a child's brain simultaneously. This is important for learning skills such as spatial awareness, rhythm and balance, and muscle control." Playground swings, just like much of our other exciting RSP playground equipment, offer a mental exercise unlike any other. A complex coordination of body and mind that a child can't be taught—it must be experienced through trial and error. Experimentation is key to learning how to swing properly. Different motions that use all body parts need to come together for a child (or even an adult!) to take flight. With practice, this helps stimulate neuronal pathways like never before—once a child figures out what works best, their brain is working overtime while continuously monitoring adjustments needed to keep themselves moving skyward!
Get Your Swing-ersize
Swings are the new black! Science is proving the physical benefits of swing sets for kids and kids-at-heart, which is why commercial swing sets are making their way into gyms across the nation. The exercise of a swing set provides children and adults with more than just a fun outdoor activity, it helps them to develop their coordination and build important muscle groups. For example, kids must engage their core abdominal muscles to stay balanced, their leg muscles for momentum-building propulsion, and their arm muscles to firmly hold onto the rope or chain for support.
While children too young for the traditional swing seat or children with special needs may be unable to pump their legs in the air, simply sitting down and holding onto the sides of any kind of swing still offers great muscle-strengthening advantages. Our Adaptive Swing Seats are perfect for kids with different abilities to get the physical benefits of the swing. And of course we can't forget the titillating Tire Swing Seat! A commercial swing set with a tire seat offers extra coordination opportunities for kids playing together since more muscles need to be used to maneuver around other kids' bodies for everyone to stay aboard!
A Dizzying Amount of Benefits
Speaking of tire swings, why do kids love to spin so much? There's a reason that kids love making themselves dizzy on tire swings. Spinning may seem silly, but it's an incredibly effective way to help children develop body awareness and coordination. It plays on the different sensory systems of humans—vestibular, proprioceptive, auditory, and visual—working in tandem so that kids can become more aware of their "center". This increased sense of balance has been proven to result in improved concentration when they are back in school, too!
A child's vestibular system is an essential part of their body that governs balance, posture, and gaze stabilization, all vital capabilities for daily life tasks. When sensory integration is difficult for children, occupational therapists channel the park playground and provide activities like a tire swing to stimulate the fluid cavities in the inner ear. These are essential sensors that inform children how they are oriented in space.
Of course, at Play Mart, we go above and beyond in everything we do, and our Tire Swing is no exception! Ours is crafted from strong, clean polypropylene instead of rubber, so it won't leave stains on clothes. Plus, it's lightweight enough so unexpected bumps won't knock them off their feet—and its fully enclosed circle also keeps out standing water and bugs!
Swinging for Everyone
At Play Mart, we don't want to leave any of your children out of our beautiful bouquet! That's why we make a handicap Adaptive Swing Seat as part of our ADA Accessible playground equipment. This seat makes it possible for young ones to get the same enjoyment from a beautiful day on the playground as their friends in their own safe way. Our ADA-inclusive style swing seat can be used on our regular RSP A-Shaped Swing Frame to integrate seamlessly with the swing set at school playgrounds and community play areas everywhere.
Playground Swings We Offer:
Take a look at the wide selection of commercial playground swing sets for sale at Play Mart:
Available Options:
Choose from many styles of swing seats (sold separately).
You can customize your playground swing sets with the seat styles and frame combination that works best for your play area.
Why Play Mart?
What makes our commercial-grade swing sets stand out from the rest? Ours are constructed from RSP (Recycled Structural Plastic) with corrosion-resistant metal beams. This has many advantages over the traditional metal swing set. The innovative recycled plastic formula we use in our playground equipment is durable and weather-resistant, so it won't rot, chip, or fade. Our helpful staff will guide you in choosing the right commercial swing set that fits your play area perfectly.
What are you waiting for? Swing up, up, and away with the thrill of Play Mart RSP Swing Sets!
References
https://www.canr.msu.edu/news/just-a-swinging-sliding-and-climbing
https://extension.psu.edu/programs/betterkidcare/news/2017/spinning
University of Washington. "More than recess: How playing on the swings helps kids learn to cooperate." ScienceDaily. ScienceDaily, 19 April 2017.