Welcome to your all-inclusive Hawaiian playground vacation!
Aloha!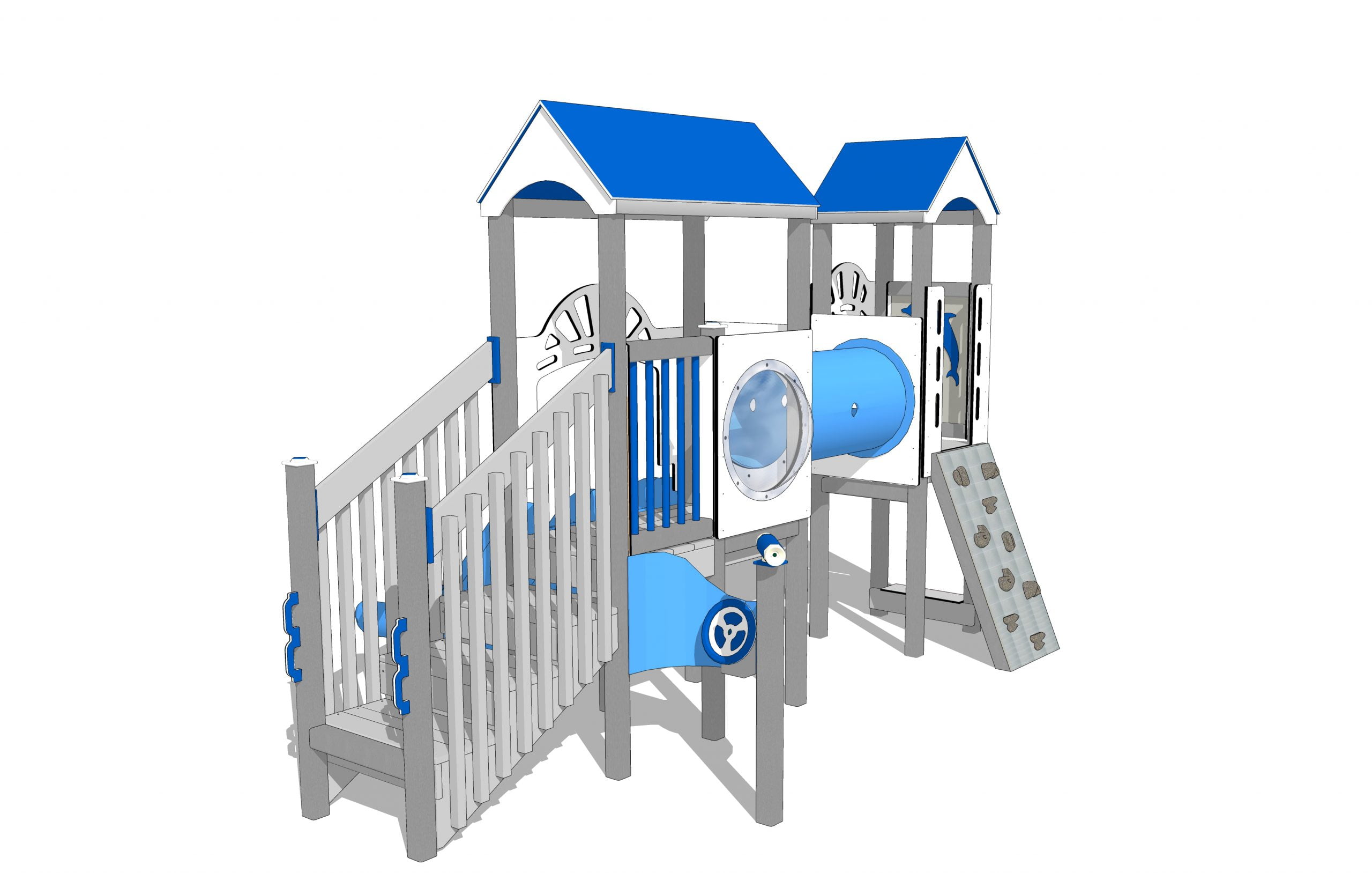 Have you and your youngsters been yearning for a tropical vacation? Look no further than the Waikiki play set! It offers an all-inclusive Hawaiian adventure packed into one compact play set and is an excellent addition to or feature for your playground. While you may not be able to hop on the next flight to Hawaii with all of your kids, this playset will deliver you the next best thing. It is no mystery why the Waikiki is one of our favorite themed playgrounds. So let's look at what's in store for your all-inclusive vacation!
The Waikiki package includes:
Double Slide with Double Slide Hood
Wave Slide with Single Slide Hood
5 Pipe Rail
Straight Tunnel with Peek and Safety Plate
Driving Panel with Teleidoscope
Rock Wall Climber with Handle Panels
Triple Stepper with Picket Rails and Handles
ADA Transfer Deck
Kids Bench
Consider some of the mental and physical stimulation and the all-important fun children will have using the Waikiki playset. Imagine their "week in Hawaii" and a sample of their activities while they have fun interacting with the playset and their playmates.
Day 1: Rock Climbing Adventure
Your kids will have no problem getting their daily dose of fresh air and exercise with this exciting outdoor playset. They can imagine themselves on the peak of Diamond Head when they scale the Rock Wall with Handle Panels. The rock wall is a load of fun and engages the muscles in the arms and legs. This will help your children build upper and lower body strength while they develop grip strength in their hands. The Waikiki gives you a massive mountain of physical activity in a small playset that fits in your play area!
Day 2: Sight-Seeing with Dolphin-Maui Photo Panel and Bubble Panel
One of the biggest appeals to a Hawaiian vacation is the magnificent scenery. Your children will not miss out on the beauty of the coastline when they play on the Waikiki. The photo panel features a breathtaking colored depiction of a sunny beach that will sweep their minds away to Maui. Imaginative play is essential for a child's mental development. The Dolphin-Maui Photo Panel and the Bubble Panel will spark the imagination and help your kids visualize themselves in an entirely different place. If you have tried meditating, you may have realized the benefit of visualization to relax and reduce stress. While childhood may seem stress-free from an adult perspective, little ones still need the opportunity to decompress. Imaginative play is an excellent way for kids to practice self-regulation skills while working on their cognitive development.
Day 3: Boating Excursion with Driving Panel and Teleidoscope
There's no risk of getting seasick with this tropical boating excursion! Your children can pretend to be the ship's captain, off to take some happy tourists out for dolphin-sighting. Along with the driving wheel, the Waikiki features a teleidoscope for their sea-faring pleasure. Play Mart knows the importance of getting children interested in STEM at a young age, which is why we are passionate about designing STEM playground equipment. Your kids may be familiar with a kaleidoscope from science class, so they will love experimenting with the teleidoscope. It contains mirrors and lenses that allow kids to see their surroundings from an entirely different perspective. Whatever the child points at will become a mesmerizing mosaic of colors and shapes. Their world will be transformed as they experiment with rotating the teleidoscope and changing its direction. Whoever said learning can't happen on vacation!
Day 4: Surfing with Wave Slide and Double Slide
Surf's up, dude! Your kids will have a blast surfing the waves going down the Wave Slide and Double Slide. The slide is a classic favorite for kids of all ages and a great way to build social skills. Playgrounds are the perfect place for social play, and what better way to socialize than "surfing" down the double slide with your best pal! Of course, kids will practice the valuable skill of taking turns, but the three slides included in Waikiki ensure they won't have to wait too long for their round riding the waves!
Day 5: Deep Sea Tunnel Exploration
Are your kids brave enough to face the deep sea? The Waikiki features a straight tunnel that children can venture through going from one side of the playset to the other. The tunnel features a peek hole where they can check out the outside world during their diving expedition. You will appreciate the development of coordination and gross motor skills as your youngsters crawl through the tunnel on their hands and knees. In addition, their minds will be caught up in the moment as the tunnel sparks their creativity and curiosity. They will experience yet another journey of imagination.
Fun for All Ages
There is no age limit to the joy of a Hawaiian vacation! Waikiki is part of our all-ages line, meaning it is suitable for children ages 2-12. This makes it highly versatile for use in daycares, churches, preschools, or elementary schools. Kids can engage in tropical fun year after year. The abundance of multi-functional equipment means children can experience the playset in new ways as they grow older. They will be hooked on the good times they have on this playground and want to go back again and again!
Truly All-Inclusive
The "Aloha State" welcomes all children! At Play Mart, we recognize the value of every child, but we also recognize that each child is wonderfully unique. We want to make the delight of the playground available to all in a safe way. The Waikiki is an accessible playground, which means it meets or exceeds the standards directed by the ADA. It is important for each of your children to be able to play together regardless of ability differences. They may not come back from this Hawaiian vacation with a tan, but every child will come away with priceless social, physical, and cognitive benefits.
Book your vacation today!
The Waikiki may be a small playset, but it packs an ocean-worth of physical and mental stimulation and entertainment! Contact us today and make your playground a little piece of paradise.