What makes our structural material – Recycled Structural Plastic™ – SO MUCH BETTER?
Eco-Friendly Playground Equipment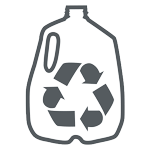 Focusing on this generation—and the next—we engineer our outdoor playground products to be low-impact environmentally, safe, and enduring with the use of reclaimed plastic and stainless steel.
Recycled Structural Plastic™ "RSP"
Recycled Structural Plastic™ "RSP" We manufacture our own lumber (RSP™) for our playground products from post-consumer and postindustrial plastics which prevents millions of pounds of plastics from entering a landfill per year. RSP is 85% recycled plastic by weight. 50% of our RSP formula is comprised of our internal plastic manufacturing scraps and the remainder is recycled post-industrial milk jugs and bottles. We prevent all of this plastic waste from entering the landfill.
RSP™ Posts & Frame Material Colors
We use over 100,000 pounds of internal scrap annually to produce beautiful new shades of RSP. We've now added Slate and Mist to our standard RSP color palette of Chocolate and Latte.
Recycled Structural Plastic™ "RSP" Lasts Longer!
Does Not Fade
On many metal playgrounds, beautiful reds turn into pink, and yellows fade to a milky tan color—not the result you want when investing thousands of dollars in a playground. Our RSP™ is highly UV and fade resistant. Our colors remain "factory fresh" for many years! Our playgrounds built with RSP are designed to look beautiful after decades of service.
Does Not Rust
Rust on metal playgrounds is all too common, even those coated with plastic or PVC. Rust can injure children and shortens the life of the play system. When you buy Play Mart Playground equipment made with RSP™, you don't have to worry! RSP is designed to handle the toughest elements that nature can dish out—with no rust! RSP's weather resistant, non-porous properties remain static even when in continuous contact with water, sea air, salt and sand.
Graffiti Resistant
Any parent or park director will tell you that graffiti is an all too common problem for most playgrounds. Stickers, etching into metal posts, markers and spray paint all detract from the kid-friendly play environment. Play Mart's RSP™ makes graffiti removal very easy! Marker and spray paint will come off with a cloth and light cleaning solution and stickers don't stick to RSP. Small scratches "self-heal" into the material, and larger ones can be smoothed easily while keeping color integrity.
Does Not Tear
Many playgrounds designed for children are made from hollow molded plastic which can be easily punctured or tear over time. Our material is solid, preventing damage and deterioration of this sort.
Non-Toxic, Does Not Peel
Other playground decks are often coated with PVC, which tends to peel. RSP™ is solid material so it will not de-laminate (when coatings peel apart). RSP does not contain PVC; it is nontoxic and will not leach or bleed arsenic, heavy metals or chemicals into water or soil.
Does Not Rotor Splinter
Although gaining in popularity, wood is not a preferred building material for playground use. Wood is susceptible to insect damage, rot, splintering, and requires a great deal of maintenance. Over the life cycle of a playground, a Play Mart RSP™ playset will far exceed the value of a wood playset. RSP is flame, rot and fungus resistant, and is immune to termites, insects and borers. Steel Posts can split when post caps rust, leak, fill with water and freeze. RSP is solid and water impermeable.
Does Not Chip or Flake
Play Mart is committed to building playgrounds that wear well with use. Our RSP™ has a consistent color throughout the entire post or board, which gives it the ability to conceal scuffs and scratches. Painted metal posts quickly accumulate these imperfections, which result in major paint issues that require repair or replacement. RSP does not have an outer layer that can flake off or get chipped away and never needs painting or treating.
Would you rather choose a metal or wood playground that will look good and be safe for only a few years – at the most – or a Nature of Early Play play element that will last decades?