We are recovering yesterday's plastics for today's play™!
Focusing on this generation – and the next – we engineer our playground products to be low-impact environmentally, safe, and enduring with the use of reclaimed plastic and stainless steel.
We turn milk jugs into playgrounds!
Recycled Structural Plastic™ "RSP"

RSP – Recycled Structural Plastic is extruded in house using  85% recycled HDPE #2  by weight. The formula for RSP is comprised of roughly 30% internal HDPE plastic waste, 30% post-industrial milk jugs, 30% post-industrial Clorox bottles, and the remainder in the colorant, structural fiber, and UV protection.  Our proprietary formula comprised of post-consumer and post-industrial plastics prevents thousands of pounds and millions of plastic bottles from entering the landfills, waterways, and oceans.  When you buy play equipment made from RSP, you are part of the solution – not part of the plastic problem.
We've added Slate and Mist to the RSP color palette in addition to our standard Chocolate and Latte.  RSP is used for the structural framework of the playground including upright posts and for all decking and platforms.
Formula continually improved since 2007
Increased structural strength
Increased rigidity
Increased thermal stability
Amazing RSP Benefits:
Low maintenance
Graffiti resistant
Will not rust, splinter, split or de-laminate
Color throughout plastic – no fading or chipping
Resistant to marine borers, termites, fungus, salt and oils
Textured walking surfaces for safety – SureStep™ Decks
Additional Stainless Steel reinforcement as needed
Limited Lifetime Warranty on Posts and Eco Colors components
100% BPA, Phthalate and "soft" PVC free
Provides a life lesson to kids about good use of resources!
RSP Applications:
Structural members (posts)
Decking & Platforms
Steps
Railings

SureStep™ RSP™ Decks: 
This slip-resistant ridged RSP™ deck-board is our proprietary design for increasing friction and reducing falls so children can walk and run confidently on our products. The ridges also make the decks cooler to the feet with less direct sun contact.
So is plastic really environmentally friendly?
YES!
We purchase post-industrial and post-consumer waste and prevent it from reaching landfills by recycling over a million pounds of plastic yearly! Play Mart products are made from recycled materials—primarily from post-consumer recycled HDPE plastic. Scraps and cut-offs of materials used in manufacturing are reground for extruding our plastic lumber or sorted for recycling elsewhere. By internally recycling we have cut our use of plastic in half and saved millions of pounds of plastic from going in the landfill. The end result is that roughly 50% of our RSP is from internally recycled material.
---
SureGrip™ Metal Components
Allied Steel Triple Coat Finish then Zinc galvanized Inside & outside
"Wrinkle " powder coated to increase friction and reduce falls
– Electromagnetically "baked-on" powder coating
– Provides lasting color
– 5 to 6 times longer corrosion free
Stainless Steel welds
Total Stainless Steel components available for sites near saltwater
Steel has 30 to 95% recycled content
Wrinkle-Coat:
We powder-coat our climbers and sliders with a uniquely strong and textured surface "wrinkle coat" to increase friction and reduce falls. Play Mart is the only playground manufacturer currently using this slip-resistant powder coat. Steel pipe is used in all metal climbers, overhead climbers, ladders, and railings.
Smooth Stainless Steel Welds: 
Welds are especially vulnerable to rusting due to paint chipping off and revealing raw steel beneath. But, we replaced our welding wire with Stainless Steel wire, and require our welders to create super-smooth welds, preventing jagged edges susceptible to chipping. This protects children from cuts while preventing rusting in the process! Stainless Steel welds and plates have a 60% minimum recycled content.
---

Stainless Steel Hardware & Attachment Plates:
Rust-proof Stainless Steel hardware and attachment plates are standard on all Play Mart equipment—features unmatched in the playground industry. We even offer a complete Stainless Steel upgrade for all metal on the entire structure—the solution for coastal environments where salt spray disintegrates galvanized steel and corrodes aluminum very quickly.
---
EcoColor Plastic:
High-Density Polyethylene with UV protection.
Signboard with duo colors is used to created contrasting graphics.
Industry-standard non- scratch orange peel texture.
Sheet plastic scraps are internally reclaimed and comprise 30% of RSP formula.
---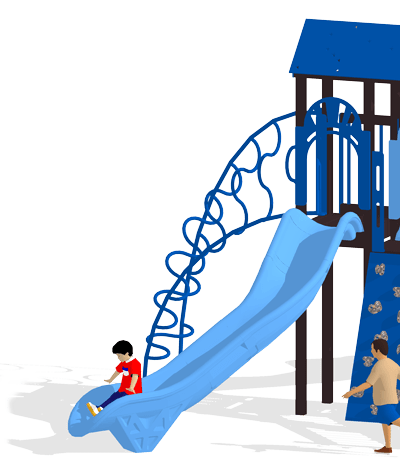 Roto-Molded Plastic:
LDPE (Low-Density Polyethylene)
UV 8 additive to prevent fading
Due to the characteristics of Roto-molding, only UV Stabilized virgin plastics (LDPE) may be used to manufacture structurally sound Slides, Tunnels, Panels, and Roofs (e.g. Spinner Panel parts, Casa Grande Roof).
Introducing Cloud!
This innovative material "Cloud" in a contemporary grey tone has a lightly textured, rubberized surface that provides youngsters a better grip on climbing equipment.  Rock handles stay firmly secure without spinning or turning.   Since 2020, this material has been used for Rock Climbers on all our playsets.
---
Shades
Protect tender skin from sunburns with a beautiful shade.  Whether it is placed over a playset, stand-alone equipment or an open space, a shade will enhance any playarea.  In addition to keeping children safe from harmful UV rays, a shade can keep them cooler.  Temperatures under a shade may be lower by as much as 20 degrees!  Combine any of our standard colors for fabric and posts to add visual appeal to your site.